"Moa; peaceful and majestic giant birds."
—Insert Name Here

Moa are giant, passive birds that populate the Aether in three different colors: blue, white and black. Moa can't mate, but do occasionally drop eggs of their respective color. These eggs can be burned in the Incubator. Due to their appearance, they can be mistaken for Cockatrices, their aggressive counterpart.

Taming and Usage
Edit
Wild Moa cannot be tamed. The only way to tame a Moa is to place a Moa egg into an Incubator, and feed the baby Moa until it grows up. To acquire a Moa egg, players must either wait for a wild Moa to lay one, or find eggs in
Dungeon
chests (the most common Dungeon egg is a blue one). Moa will usually lay eggs after about 5-7 mins. Once obtained, you can place the Moa Egg in an
Incubator
, and heat it with an Ambrosium Torch. After the incubating process is complete, you can spawn a baby Moa. Before you can ride it, however, you will need to feed it 
Aechor Petals
. To get these petals, you must kill
Aechor Plants
, which are very dangerous and should be approached with caution. The Moa will eat an Aechor Petal every few minutes. The Blue Moa takes four Aechor Petals to grow, while the White Moa takes six and the Black Moa takes nine.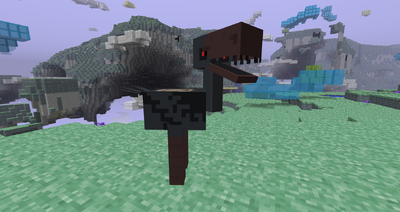 Moa are very useful for getting around in the Aether because they can jump midair. Blue Moa can jump 3 times in the air, with white Moa having 4 jumps and black Moa, the rarest of them all, having 8 extra jumps in the air. Any Moa can climb up one block without jumping. When fully grown, a saddle can be placed on the Moa, allowing the player to ride the Moa around. Full grown Moa will drop eggs, making an egg farm very useful for gaining more Moa. It should be noted that Moa can even grow up in the Overworld. The main reason for going through the trouble of growing these creatures is so that players can have a suitable way to get around in the Aether, and can be seen as a better alternative to Phygs and Flying Cows. Currently, the only way to heal a Moa (besides using mods to do so) is to throw a Splash Potion of Healing on it.
Moa are based on a long-extinct species of bird by the same name. These moa inhabited New Zealand over 1,000 years ago, and due to being hunted down by the Māori, were completely wiped out. However, unlike the Moa from the Aether, these large birds were flightless. Coincidentally, both Cockatrices and Moa are based on creatures from the past, whether extinct or myth.